December-January Contest!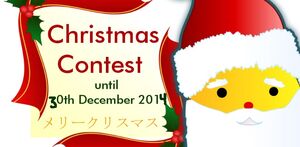 Hello, LoveKiss here!
SunshineCutiePie and I here to announce the Christmas Contest of 2014. Before we start, the contest will last from December 24th to December 30th. If you participate, you'll get a customized bubble for January, you choose the design!
This contest is about creating ANYTHING you like (but it has to be "Christmasy" (Making it like a Christmas thing) from a shiny snowflake to a decorated "Happy Holidays" card! You can choose anything you want to make! Use your AWESOME creativity and start to work on those "babies"!
You can put your creations here! You'll see a BIG surprise on December 31st!